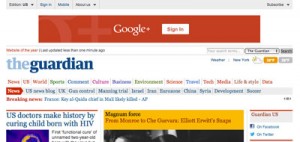 From SiteProNews:
Google recently announced its new Google+ Sign-In platform during the Google Developers Live stream. I'm all for minimal user names and passwords so I think this single sign on might be a big Google+ win, but only if it can compete with the existing Facebook and Twitter sign-in platforms.

Not only does the new sign-in system provide ease of use for site and app users, it also has huge potential to facilitate consumer interaction, expand online communities and increase mobile app downloads for businesses and web developers.

The Google+ Sign-In feature is represented by a shiny red "Sign in with Google" button. Supported on the web as well as Android and iOS devices, the feature will allow users to sign into websites and mobile apps using their Google accounts rather than having to create a new user name and password.
If you're a fan of the Facebook & Twitter logins available around the 'web, you will like this. Unfortunately, it's only going to be on a select group of Google partner sites for now, including The Guardian, USA Today, Flixster and Tune In Radio, among others.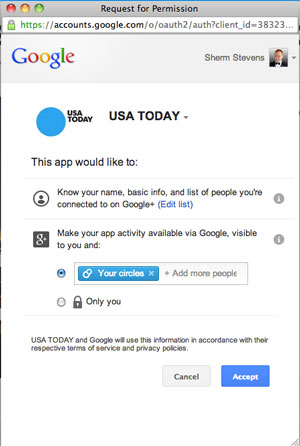 Sounds like it's going to be a bit more robust than the empty Facebook share box:
Once a user has logged onto your website or mobile app through Google, interactive sharing allows them to share information from your site with their friends, family and professional connections via their Google+ circles. This is where the Google+ sign-in offers a bit more interactivity than Facebook's sole "share" button: Developers will be able to choose from over 100 verbs to represent a call-to-action like "buy," "listen," "vote," or "review."

Interactive sharing will also allow developers to customize the text in a user's post. Unlike the empty Facebook "share" box users are accustomed to, the Google+ posts will help businesses and marketers start the user's dialog. This pre-fill text will appear as a default entry for the user. Users can then share as-is, modify the message or erase and add their own text.
What do you think? Is this a big deal or a yawn?
Creative Marketing Genius & founder of iNvision Studios Web Marketing, Sherm Stevens has spent the past 20 years helping SMBs, non-profits and other clients with creative marketing solutions. iNvision Studios offers a mix of technical, creative and marketing services, giving small businesses the opportunity to increase their inbound customer traffic with an SEO-optimized web site, social network marketing, local search marketing, mobile-optimized websites, PPC advertising, and mobile marketing.
Blogroll
Archived Posts
Site Admin